Valent's new 3-7 ton DOAS unit delivers unmatched features and quality at an affordable price. Features available on Valent's smallest unit include:

Inverter scroll compressor. Many manufacturers offer this quiet, efficient compressor, but only as an option with added cost. The Valent VX-12 comes standard with this industry-leading technology.
High turndown furnace. Valent offers a 16:1 turndown furnace to maintain comfortable discharge air temperatures at part-load conditions.
Ultra-quiet and efficient condenser fans. The Valent serrated fan blade design is up to 12 dB quieter than a traditional condenser fan and is standard on every unit. Also, the VX-12 condenser fan always has an EC motor, further improving performance.
Horizontal return. Installation flexibility is required for many jobs and the VX-12 offers the traditional vertical supply and return or the highly desired horizontal supply and return, not widely available.
VALENT VX-12 SPECIFICATIONS
Airflow: 500–2,500 cfm
Cooling: 3–7 tons packaged DX
Heating: Gas (16:1 turndown available) or electric
Compressor: Inverter scroll standard
Condensing fan: Serrated fan blades, ultra-quiet operation, EC motor standard
Duct connections: Vertical and horizontal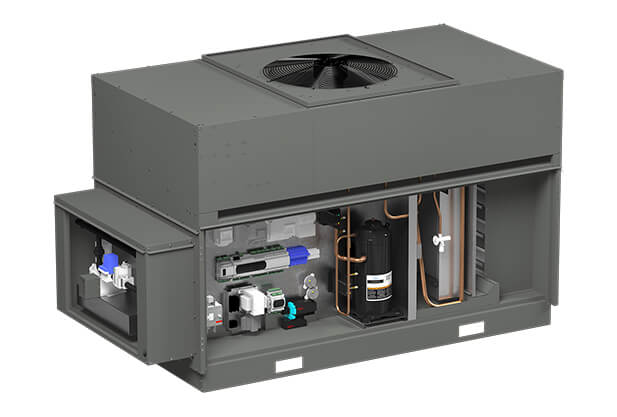 The Valent VX-12 includes a standard inverter scroll compressor and a quiet and efficient condenser fan with EC motor.
Download a pdf of this article.