Quality has been the cornerstone of the Valent brand since its inception. The VX product line retains the quality construction and components that make it the preferred dedicated outdoor air rooftop. And it is now coupled with the latest "design-for-manufacturing" technologies that make it more affordable than ever! Not only does a Valent DOAS allow for a competitive first cost, but it is loaded with capabilities and features that lower the cost and risk of installation, saving contractors and owners real dollars.
Valent designs with cost and performance in mind. You get Valent's quality construction at an affordable price.
LOW FIRST COST
With products ranging in size from 3-70 tons and 500–18,000 CFM, Valent's dedicated outdoor air rooftops have what you need to meet the ventilation requirements of your project. And the pricing will make Valent the obvious choice. Click here for full product overview
SMOOTH INSTALLATION
Installation is often the biggest challenge for any project. With Valent, every completed unit is run for an average of 90 minutes before it leaves the factory. Therefore, the first time the unit actually operates is in our factory, not on your roof. Mechanical components are run through their entire operating range. Control sequences are programmed and configured with default set points. Refrigeration systems are charged and held to ensure leak-free operation. This uncommon commitment to quality leads to a fast and trouble-free start-up.
Starting up a Valent unit is as easy as 1-2-3:
Inspect – Verify the necessary field connections have been made properly. Factory components have already been verified.
Enable – Enable the unit using the handheld controller or Valent's Web UI system. Just a simple swipe moves the unit to this "ready to run" mode.
Adjust – Fine-tune the settings for local conditions. Remember – default set points have already been programmed but are adjustable if desired.
Click here to watch our 1-2-3 Start-Up Video.
DEDICATED SUPPORT
Even with the best product on the market, questions and issues can arise during installation and operation. Highly skilled local support is available from your Valent manufacturer's representative. In addition, Valent has a technical support team staffed to support both our reps and our customers. We're here when you need us!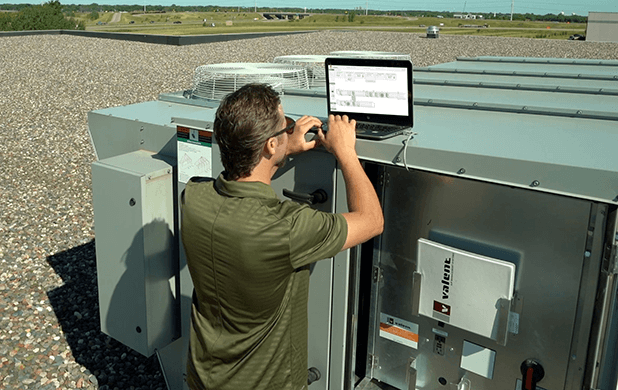 Valent Simple Start-up — Inspect, Enable, Adjust.
Use the convenient web UI screens for quick start-ups. The web UI is standard on all Valent units. Click here to learn more about our easy-to-use web user interface.