Valent is a leader in energy recovery technologies for dedicated outdoor air systems (DOAS). In fact, more than 50% of Valent equipment manufactured in recent years includes some type of energy recovery. While Valent offers multiple options, energy recovery wheels (or enthalpy wheels), are the most efficient and effective. How does Valent apply enthalpy wheels for maximum effectiveness?
ENERGY RECOVERY THE RIGHT WAY
Enthalpy wheels are one of the best energy recovery technologies on the market. They work by rotating to transfer sensible and latent energy from exhaust air to supply air. Essentially, the air is pre-cooled or preheated before being tempered by the mechanical heating or cooling components. This reduces the amount of energy needed to condition the air to the desired space temperature.
In DOAS units, all outdoor air should flow through the wheel during normal operation to maximize heat transfer and reduce operating costs. Some manufacturers utilize partial-width wheels and short-circuit the air around it. In many cases, the energy wheels are undersized to handle the required amount of outdoor air. An important distinction in Valent's offering is the inclusion of energy recovery wheels that span the entire width of the cabinet. Not only is this approach more efficient, but it also provides continual compliance to ASHRAE Standard 90.1.
Short-circuiting outdoor air around the energy recovery wheel reduces energy efficiency and drives the need for larger mechanical heating and cooling components. The use of full width wheels has a significant impact on unit capacities, which lowers both first cost and ongoing operating costs.
Valent offers two different types of low maintenance wheels:
Polymer – Sensible and latent energy transfer using polymer and bonded silica gel desiccant.
Aluminum – Sensible and latent energy transfer using molecular sieve technology.
Energy recovery wheels require some maintenance, but the benefits are worth it. With Valent, building owners and operators can have a more efficient heating and cooling system that is also environmentally friendly and comfortable for occupants. It's a win-win!
Download the Valent Full Width Energy Recovery Wheels Datasheet.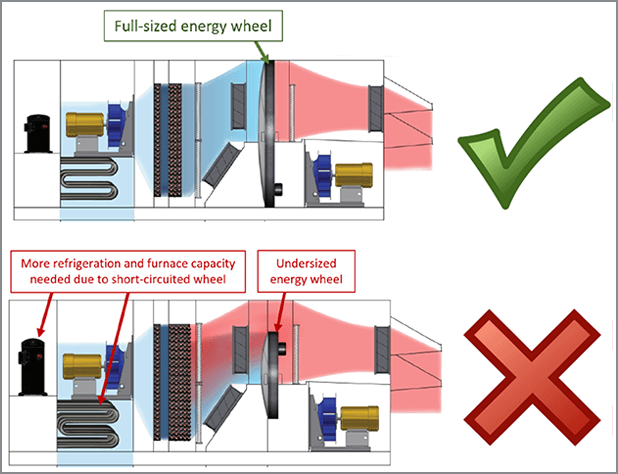 Energy recovery wheels that span the entire width of the cabinet are the most effective and efficient.