Air source heat pumps, an all-electric heating and cooling solution, are becoming more popular in markets where local agencies have set decarbonization goals. Configuring your air source heat pump properly is important to ensure proper heating and cooling performance. Using energy recovery and a proper defrost control strategy can help ensure air source heat pumps operate reliably.
AIR SOURCE HEAT PUMPS AND ENERGY RECOVERY
When using air source heat pumps in high outdoor air applications, energy recovery becomes especially important. At their core, air source heat pumps and energy recovery devices share a common goal of reducing total energy consumption. Combining them helps to deliver a highly efficient unit that reliably delivers comfortable space temperatures.
Energy recovery devices have long been used across the country to provide energy and operating cost savings. In air source heat pump applications, energy recovery helps temper incoming air, reducing demand on the compressor and keeping it within its operating envelope. Valent's deep experience with energy recovery applications is beneficial in air source heat pump unit designs.
COLD WEATHER OPERATION – NOT ALWAYS AS IT SEEMS
Air source heat pumps are often challenged when operating in cold climates, especially when using high amounts of outdoor air. The biggest challenge for these systems is to start up on cold days. This cold-start challenge is what drives the need for an outdoor air lockout temperature. For cold weather starts or during operation, supplemental heat allows extended operating ranges.
IMPROPER DEFROST CONTROL SEQUENCE CREATES WIDE TEMPERATURE VARIABILITY
Knowing when, and how, to accurately defrost an air source heat pump unit is crucial for keeping both compressors and energy recovery devices working properly. When an air source heat pump goes into defrost mode, the compressor must provide heat to both defrost the coil and keep the space warm. This usually creates a discharge air temperature below setpoint. Therefore, entering defrost mode as infrequently as possible is critical to stable space temperatures.
Some control systems may trigger defrost mode based on the outdoor air temperature, which does not accurately detect frost formation on the outdoor coil. This may unnecessarily trigger defrost mode when the coil is not actually frosted, potentially resulting in unnecessary space temperature fluctuations. Valent's controls are quick and accurate: defrost mode is triggered by reading sensor data from the cooling coil to determine if the coil is actually frosted. This means the unit is operating more efficiently and occupants remain comfortable.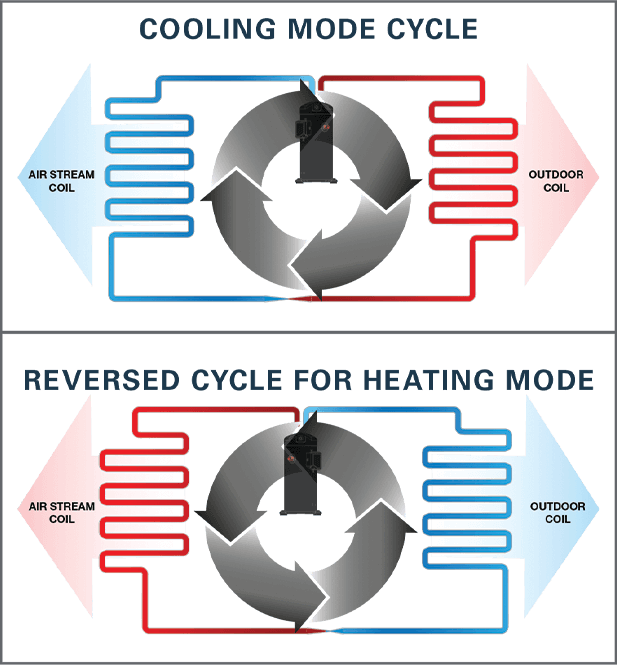 Air source heat pumps use a reversing valve to reverse the flow of refrigerant and pull heat from the ambient outdoor air.