A high quality dedicated outdoor air unit will last for years and provide improved indoor air quality for the spaces it serves. Valent dedicated outdoor air systems have been known for their quality since the brand's inception. For Valent, quality starts with an intentional, engineered design and continues through the manufacturing process including a 400-point inspection and end-of-line run test of every unit.
QUALITY ENGINEERED DESIGN
Valent units are designed to support the level of quality and performance customers demand. From high end components like inverter scroll compressors and standard direct-drive VFD-driven fans, to fully modulating dampers and unique energy recovery options like enthalpy cores, Valent doesn't cut corners. In addition, the 2" double wall, injected-foam and painted cabinets are designed to last for decades.
MANUFACTURING PROCESSES FOCUSED ON HIGH-QUALITY DELIVERY
Achieving excellent performance requires investing in both design and manufacturing. Valent factories are built with manufacturing automation such as integrated form and bend machines that quickly and safely punch, cut, and bend panels. Combining automation with a skilled workforce has taken Valent to an even higher level of fit and finish on DOAS products.

Quality is ensured through several in-factory best practices. In-process quality checks flow through the assembly line along with the unit, ensuring every step of the assembly process is top-notch. A thorough end of line test ensures the first time a unit is operational is in the factory, not on a roof. Using the embedded controller, all components are taken through their paces and measured against industry performance standards. This commitment to factory testing and validation creates a simple start-up at the job site.
Learn more about Valent's commitment to quality, check out this brochure: Why Choose Valent or visit any of the resources on our website.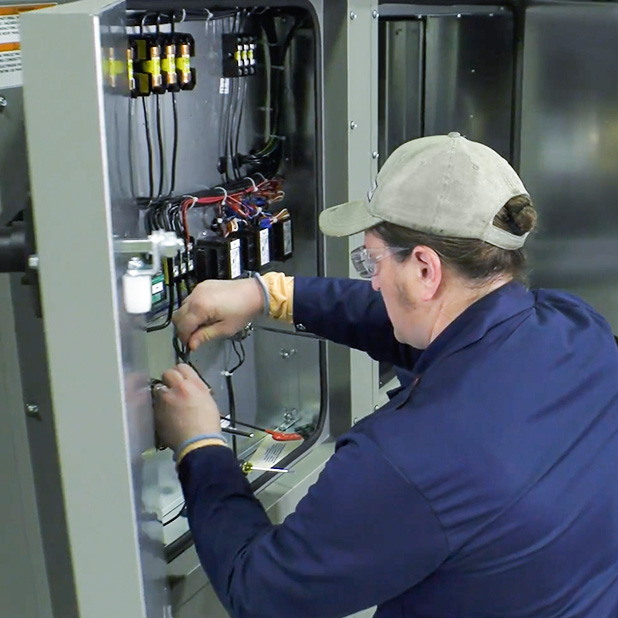 End of line testing is just one example of Valent's commitment to quality.
Up to a 400-point inspection is completed on every unit before it ships.